Okay, so I know that It's a Blog World After All is not original... but it is cute.
Well, I taught about the Holy Ghost today in Sunday School... Gotta love my four and five year olds... I asked a review question today. What happened when Peter preached to Cornelius and the others? A little girls answer was "the devil." HELLO... WRONG ANSWER! I haven't a clue how she got that answer.. but I asked again and she thought about it and splurted out "people received the Holy Ghost." That my friends is the right answer! Those little ones do make me proud. They answer the questions and out of seven of them, I'd say about 4 of them 100% (the whole time in the class room) paid attention.. It isn't bad at all.
Speaking of them, here is a picture of my Easter class... Six of them are regulars :)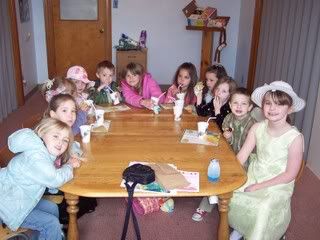 Go look at this cute video that I found on a friends MySpace... The Holy Ghost Will Take The Chicken Out Of You.
Click Now :)
Too Cute, Right? :)
Well, that is it for right now. Oh, had fun this afternoon eating at LaRosa's with Tiff, Megan, and Sarah. :)