Well, I am obviously sitting here bored with nothing to do... Otherwise, I wouldn't be blogging! I really hope one day that I'll be able to blog daily like I used to back when I blogged on diary-x.com. HMMM. Anyways, we got our entertainment center up! I am sooo excited. You just do not know! Here is a picture of it.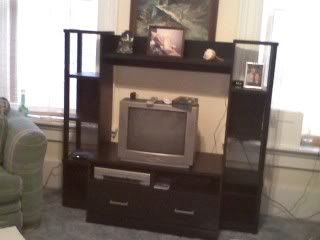 (btw, I took this picture with my new cell phone. Samsung BlackJack)
It took us forever!
I am so glad it is up.. I love it. We really need to get a newer tv though. I wanna get a 32 inch flat. It would look so much better on the center.
Well, starting last Sunday I have been on vacation. We haven't really did anything other than stay here and go out to eat. We put up the entertainment center yesterday after we ate at Pasquale's. It was good... We just got in today from Taco Bell. I seriously love Mexican places.. and Taco Bell. I wouldnt consider it authentic mexican. LOL We are leaving for church in about an hour. Tomorrow, we will go down to Chosen Conference. I guess we will be commuting back and forth rather than staying down there. I rather stay down there.. but I guess commuting back and forth will save us a little money. We might stay down there on Friday night though and then go to the service on Saturday and then come home. I am not sure what he is gonna do yet.
Hmmm, well, I guess that is all I have to say right at this moment... I am enjoying my time away from Walmart. I wish it was longer. I'll update again when something exciting goes on... Or maybe I'll tell of the services at church or Chosen.
See ya.