I am participating in the link up with
Joy Filled Mama
. She asks "If you have experienced miscarriage, please feel free to join me in "breaking the silence." If you have (or want to write up) a blog post about your precious baby, your experience, your feelings, your thoughts...you can link up here." So, that is what I am going to do... I am going to share and then put a link up on her page as well... We have to break the silence of miscarriages instead of suffering in the silence.
Did you know that Facebook had a break the silence event on Thursday of this past week, the 21st? I joined in on that and read a lot of posts from other mothers who had lost their little ones. This is what I posted:
In loving memory of my little angel, David 06-02-09 preborn @ 14 weeks. You'd be around 19 months today. You are missed and loved. ♥
I find comfort knowing he is with his heavenly Father. I was actually reading in my study bible (off topic- I just love this new bible that I bought on Black Friday last year. It has all kinds of topics in it.) and it has a few scriptures that has helped me out in losing our baby 2 years ago.
1. God's love encompasses the preborn and that He is involved in the development of the child in the womb.
Ps 139:13-14 NKJV
13 For You formed my inward parts;
You covered me in my mother's womb.
14 I will praise You, for I am fearfully and wonderfully made;[a]
Marvelous are Your works,
And that my soul knows very well.
2. These preborn children although lost to earthly life, are special to God
Mark 10:14
14 But when Jesus saw it, He was greatly displeased and said to them, "Let the little children come to Me, and do not forbid them; for of such is the kingdom of God.
3. The "infants who never saw light" of day are at rest.
Job 3:16-17
16 Or why was I not hidden like a stillborn child,
Like infants who never saw light?

17 There the wicked cease from troubling,
And there the weary are at rest.
4. I will one day be reunited with little David Ahaziah...
2 Samuel 12:23
23 But now he is dead; why should I fast? Can I bring him back again? I shall go to him, but he shall not return to me."
Maybe these scriptures will help you. Please understand, that yes, I still grieve and sometimes it isn't a pretty sight. All teary eyed and breathless. I might even question WHY again. See, there is such a connection between a mama and their baby once the baby is conceived and you see that pregnancy test result. Even more so, once you hear that little heartbeat and see that first sonogram. It is definitely love at first sight. And you can't wait to see your baby on delivery day. I don't think that I will ever stop longing for just a hug or to hear him say "Mama, I need/love you." However, it does make it easier knowing that your baby is at rest and with God.
Please stop over to
JoyFilledMama's Blog
and read it if you would like... she has some great thoughts on this subject having had miscarriages as well. It is so important to break the silence and offer your support to those in need.
I am also joining in on a week long blog hop...won't you join us over at Homemaker By Choice.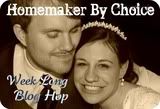 Have a happy day,