Since I have two weeks of meals to choose from, I am just to put the whole list of dinner meals. I was going to say this is what we are having Monday, Tuesday etc. But it is better to give the option to chose what to make. So, tonight we are having the Cheeseburgers and Sweet Potato Fries. This is what my husband decided.
Breakfast around here is chose what you want. I recently got a great deal at Walgreens. I bought 4 boxes of Nutrigrain bars... they end up being free after rebate! :) So, there is those bars, cereal, oatmeal, or toast.
Lunch - Hubby gets whatever at work. He usually just goes to Wendy's and gets 3 dollar meal. I've been on a Chicken Noodle Soup kick. Today I had the soup plus some black grapes.
Here are a list of dinners for this week and next.
Slow Cooker Mexicali Chicken over Rice
Montreal Chicken in Packet and Peirogies
Saucy Balls and Shells
Grilled Chicken n Veggies over Pasta.
Footlongs from Subway ;)
Cheeseburgers (cheddar) and sweet potato fries
Homemade pizzas
Grilled Turkey Burgers and broccoli/cauliflower
Slow cooker chicken and gravy
French Toast and Eggs
And I am sure on Sunday/Wednesday, we will be eating elsewhere. We always seem to catch up with someone from church and fellowship :)
Visit
Desiring Virtue
for other menu planners.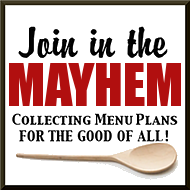 Have a happy day,