Warning: this is going to be a long post! So I hope you are in the mood to read!
Hey Everyone! Sorry I haven't updated about the weekend with my dad. So I am going to do that now while I have a little bit of time. It was great having him down here.
Wednesday
Dad called several times and left messages on my phone. Silly me forgot my phone when I went out to lunch with my mother-in-law. So, I get super excited because he said "I am on my way" and I call to get someone to replace me for Children's Church at church. I didn't want to be in church and then have to leave to go find my dad. Well, it was an adventure to say the least to get him down here. He got stuck in Columbus traffic and said that he would never drive this way again. I hope that isn't the case! So, he stayed in Columbus on Wednesday night. I skipped church for nothing. I didn't know he was going to not make it down here on Wednesday.
Thursday
He calls me and says that he is near Ronald Reagan Highway and still complains about the traffic. He now is in traffic because people are headed to work in Cincinnati. Poor Dad. He said he was thinking about turning around and heading home! No! He is definitely too close to be turning around. So, I tell him to continue heading South. He ended up calling me a half hour later trying to explain where he was at. He said he crossed the River and sees a sign that says Airport 275. After a long explanation, I realize he is off in Wilder! How in the world did he get that far from the river. He took 471 and just kept going. So, I call my MIL and she takes me to find Dad. He was pulled off to the side of the road right after getting off the ramp.
So great to see him. He looked great. First, we went to Waffle House because he was hungry. We sat for a couple hours talking and him eating. I just got some coffee. Then, I brought him back to the apartment. He said it was a nice little place. *That is what I first thought when we saw it and my ideas changed after a few days living here* We sat and talked for a bit. He went out to his van called ppl back in WV and I called my sister Robin to let her know that he arrived safely. He took a nap and walked around the block. Travis came home and we went to
Newport Pizza Company
where they got the Bocce Ball n Spaghetti. He enjoyed it. We stopped by the newly renovated church and gave him a little tour of the place. At this point, the chairs were still packaged and not set out. We came home and watched
The Pacifier
.
Friday
We got up around 9ish. Got ready and headed to McDonalds. We didn't make it in time for some breakfast, but we got something small to eat and some coffee. We sat there talking for a couple hours. Then I took him to
Newport on the Levee
. It is hard finding stuff to do when it looks as if it is going to pour down rain! (FYI, it didn't rain and my first plan was to walk across the Purple People Bridge to Sawyer Point. Didn't do this because it really looked like it was going to pour!) We spent some time in Barnes & Noble and then went into the shops. There wasn't anything that looked interesting so I took my dad through the side doors that face the river. We were near the patios of Brothers and the Irish Pub. He liked the skyline of Cincinnati and had me take pictures. We walked around toward the Aquarium and then went to the little Welcome Center and bought Robin a "Kentucky" mug. Hope she liked it-haven't talked to her yet.
We went to Johnny Rockets after that and got some burgers, a fry and some shakes. The food as always was delicious. Dad really enjoyed the shake! We went home after that and waiting on Travis to get home a few hours later. Then we went to Gold Star Chili. Dad was giving a complimentary taste of the chili and then when he ordered a 3 way they also gave him a small side of onion and beans because he didn't know if he would want them on his 3 way. He had never had Cincinnati Style chili until this point. The waiter was so knowledgeable and I was in shock. His name is Ryan and he works at the Buttermilk Pike location. I am still impressed obviously.
So, Dad seemed to enjoy Cincinnati Style. Wish I could have took him to Dixie and Skyline as well so that he could taste their chili's cause we know that they don't taste the same ;-)
Saturday
So I got up early and got ready and Dad was up and sitting out in his van listening to the radio. My friend Tiffhanie picked me up and we met Flo and Missy at the church. We all had hair appts at a hair salon in Norwood that Missy scheduled for us. Missy went to get an updo test for Tiff's wedding (that is this coming Saturday 9/24!!!) Both Tiff and I got perms! I love it. I was the last one to get a perm and we didn't get out of there until 4.
While I was doing this, Dad and Travis went to White Castle where he got a complimentary White Castle (boy was Kentucky pretty hospitable) and Travis had ordered tickets for the
Newport Gangsters Tour
. So they went on the tour that started at 1:30.
Tiff dropped me off at the church and from there we went to
Jungle Jims
in OH. Dad really liked the International market. He said he'd like to come back and purchase some stuff next time. We ended up going back to Florence and ate at Olive Garden. We all got the unlimited pasta which Dad only ate the first that came out and also some of the Chicken Gnocci Soup. Last time when we went to Pittsburgh (when we went up that way last year) he had like 5 bowls of soup and wanted more. He wasn't that hungry this time. Haha We had a good time there. He was going to leave Late Saturday night/Early Sunday morning but Travis convinced him to stay for church.
Sunday
So, Travis went on to service and Dad and I got to church right in time for it to start. He waited patiently to talk to the Pastor. Then he headed home. Well, we took him across the bridge and got him on 71 North. He called me and let me know that he had stopped for gas and that he was alright from there.
Church Renovated - Chairs Set Up, new paint, new platform (Our church looks like this now... of course the chairs on the platform are rearranged and there is now greenery and it looks wonderful. Also the baptistery tile as now been painted over to match the walls. Will upload a new picture once I get it over to the computer)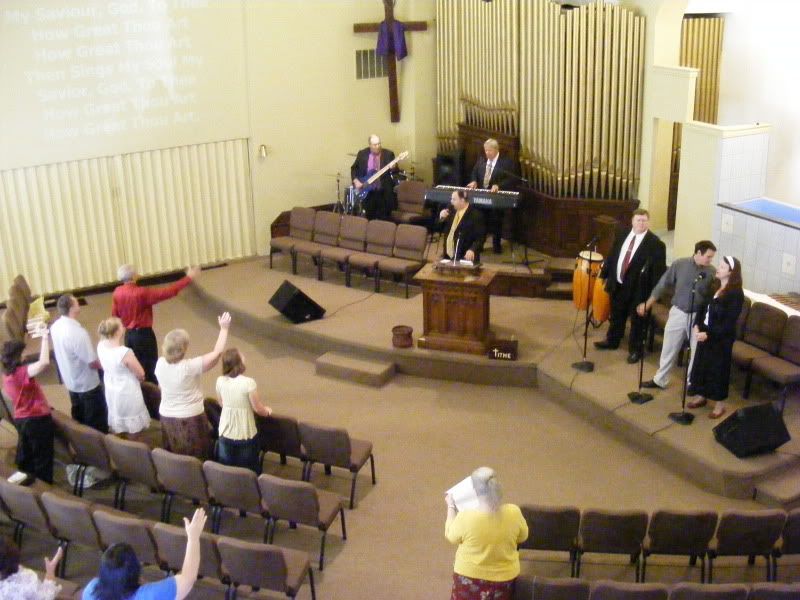 Dad and I after church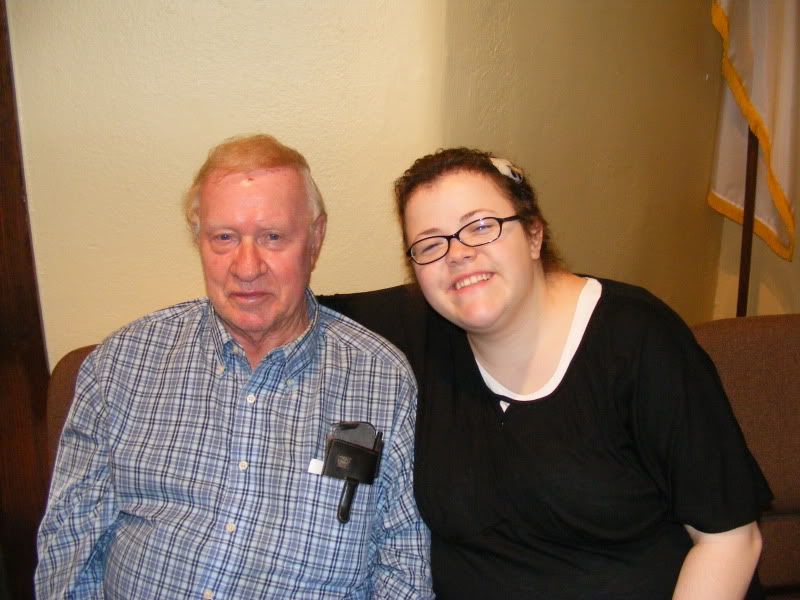 It was a great weekend. Wish he could have stayed a little longer but it was nice to get back to just doing what we do everyday without having to entertain. Haha!

Hope you enjoyed the recap of Sept 7th through 11th. I think I did good in remembering what all we did :) I was going to add more pictures but I am having trouble getting them over from my phone to computer. Once I do, I'll make a separate post with those pictures.