My Pastor & his wife are celebrating their 30th Pastoral Anniversary this weekend. Tomorrow service is at 7PM and Sunday at 11AM. We are expecting a great turn out! I've been under them since I moved to KY back in 2003. They are such wonderful people! Here is the postcard that I created and we mailed out over 100 of them.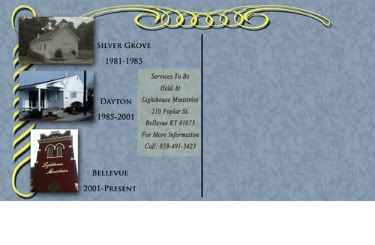 You will see the 3 churches that they have pastored in and also a picture of when they started in Silver Grove and them today! :)
We are sure to have a good turn out! My husband has created a slide that will play before and after service. It has over 400 pictures in it. It will actually place on both days. We are going to be at the church at 4:30 tomorrow for everyone to practice their songs and to make sure the sound is good and that the Presentation goes as planned. We are recording the service as well! I am gonna try to get some pictures.
I am making Buffalo Chicken Dip and also a Cheddar Ranch Cheeseball for Sunday. I got to go to the store tomorrow before heading to the church! Excited about this weekend.
Oh another exciting thing that has already happened this week is that we went to a Memorial Service for a friend's uncle that passed. (It was held at the church and I ran the sound/PowerPoint) An invitation to repent and get baptized was given and 4 ppl in his family were baptized!! How awesome is that!
Have a happy night,