A Semi-Homemade Chicken Pot Pie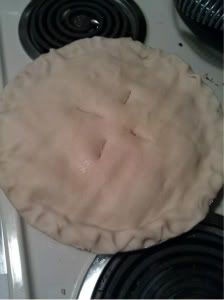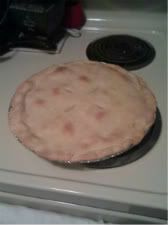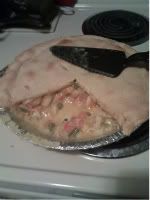 Here is my recipe:
Pie crust - packaged Pillsbury or Walmart brand. I used Walmart brand.
2 cans of cream of chicken soup
2 cans of Veg-All, drained
A rotisserie chicken (I took all the breast meat and shredded it, this is all the meat that I used about 2 1/2 - 3 cups)
Salt, Pepper, Thyme to season
Mix soup, vegetables, chicken, seasonings together in bowl.
In 10" pie pan, place first rolled out crust and then pour in mixture.
Cover with the second crust. Crimp the edges, and make slits in the top crust.
Bake at 375 degrees F (190 degrees C) for 45 minutes, or until crust is golden brown.
*hint* to make the edge not appear to dark and burnt, wrap aluminum foil around the edge.
Enjoy! Let me know what you think in the comments!
Oh, it is yummy. I've got a healthy piece left in the fridge! I may have that for lunch tomorrow after I help my MIL paint her kitchen!
Have a happy night,