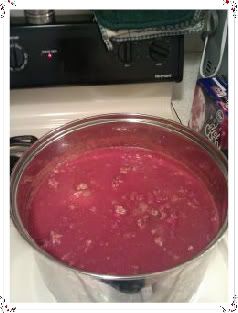 Turkey Chili
2 lbs. of Ground Turkey
Small Onion -chopped
3 cans of chili beans
2 cans of light red kidney beans
1 big can of crushed tomatoes
1 can of tomato paste
1 can of diced tomatoes
1 can of Hunt's Seasoned Diced Tomato Sauce For Chili or generic brand if you can find it
2 1/2 cans of water
salt, pepper, chili powder to taste
First brown the 2 lbs of ground turkey with the onion. Drain.
Add tomato paste... stir until not pasty and it is covering all the turkey.
Turn down stove to medium heat.
Season with salt and pepper. (I did not use chili powder because I didn't think it ended up needing it. You could add some if you like.)
Pour in all cans in any particular order.
Simmer on medium for about a half hour. Stirring occasionally.
Turn down to low once you notice the chili is hot and let it simmer to cook those beans to be soft. I let mine cook for about an hour and a half!! Make sure you stir and be sure to stir the bottom of the pot!
Enjoy!
This is what we had earlier tonight. So Good. We topped our with some cheddar cheese and some crumbled saltines!
I'll try to remember to post the recipes for the cheeseball and dip I mentioned in previous post! :)
Have a happy night,