Today, I went to my MIL's to help with Christmas gifts. What we did is trace some coloring sheets into a water-coloring book for the kids. I traced 24 pages. We took the page in the book and placed a carbon paper over top and then the coloring page. I traced elephants, camels, snakes, penguins, whales and several other animals. I did this crouched over this fold-up table that was not at a great height. After the 3rd page, my hand was cramping! Haha
I am sure that these kids are going to LOVE their gifts this year. They are getting a decorated box that has all kinds of stuff in it. Paints, crayons, glue sticks, erasers, etc. It will be just in time for their second half of school after the holidays.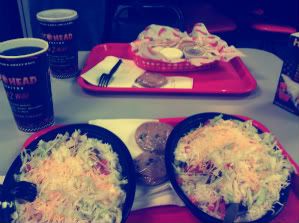 Travis come home from work and picked me up. We headed over to Hot Head Burritos for dinner. We saved so much tonight. Here is what we did. We did two transactions. First let me say that they give you stickers for each burrito you purchase and after 10 stickers you get a free entree (This is called the "Free Stuff Card") and secondly I received a Free Burrito Card in the mail because I participated in their text message challenge. We also have an app on my iPhone that gives you a free drink with a purchase of a burrito. Knowing this, Travis went first and got 2 burrito bowls & drink. He used the free burrito card and iPhone app coupon. He got a sticker added to one of the cards that we had already that made if full with stickers and now able to turn in for a free entree. He ended up paying 6.67 total. So, I went next and got a chicken quesadilla and a drink using this Free Stuff Card. I ended up paying 1.69. It pays to do two separate transactions sometimes! Have I mentioned yet that we also got 3 cookies because it is Free Cookie Monday? Great deal tonight if you ask me. But you know to be honest, I was really wanting to go to Captain D's. I've been wanting some of their hand-breaded fish!! So my MIL and I are going on Wednesday which is All You Can Eat! Lord Help Me Not To Over Stuff or Be Gluttonous!
Let me know what you think!
Have a happy night,