Hi Everyone! I am back from my break! I was going to post a blog a few days ago and never did! Sorry about that. I enjoyed the break away from Social Media but boy did I miss it! Crazy how much you miss something. I like the technology and the social networking!
So, Merry Christmas Everyone. It is just 12:08 AM... Wish I would have started this blog a few minutes earlier and then I would have been actually on Christmas. I hope everyone had a great one!
So what did you get for Christmas?
Here is what I got.
From My Husband:
Vera Bradley Tablet Sleeve (my Eee Pad is too big for it though. So I have to find something else.)
A Love That Multiplies - Michelle & JimBob Duggars 2nd Book (I am currently reading their first book that I got on my birthday.)
Avatar (Blu-Ray)
A really cute UnionBay Corduroy purse.
Friend from Church:
$10 gift card to Applebee's
Ashley Foster Sea Coral bath set
In-Laws:
Keurig Signature (includes 36 K-cups, My K-cup, and a Water Filter)
Coffee Pod Rack (Holds 30 K-cups)
18 pack of Cinnamon Roll K-cups... Wonder if I'll like it?
A small pack of Millstone Caramel Truffle coffee to use in the "My K-cup"
Pair of Cute Boots! (Have to take them back because they are too small. Hope I can find a bigger size!)
A Dress Shirt! It is pretty.
A $35 Gift Card to Walmart
Hubby and I both got a Smores/Hot Chocolate kit to share from someone at church.. the graham crackers were broken and hot chocolate we haven't made yet :)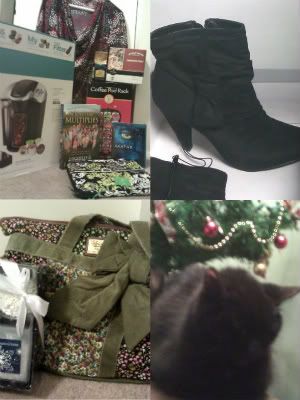 Even included a picture of Brownie - my in-laws spoiled cat in front of their tree.
I like what I got. My Mother-in-law spent a little too much on the both of us if I do say so myself. Hubby got a lot of stuff that I am not taking the time to mention at the moment. Haha.
That leads me to the question:
What was your favorite gift that you received this Christmas?
Comment below!
My favorite is the Keurig of course. I've been wanting one forever and my husband would not let me get one even with my own money and gift cards... I knew someone was going to get it for me for Christmas! LOL
Have a happy night,